LeeLee Robert - Singer, Songwriter & Storyteller
Robert to debut swinging CD at Wort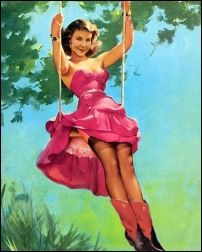 LeeLee Robert gently bobbed and swayed, lovingly cradling her Gibson hollow-body electric guitar as she sung during a recent rehearsal in the living room of her home north of town.
"Let me be the one you come home to," she sang. "Let me be the one you kiss good night."

A lilting, candle-lit waltz with a Southwestern feel, the song brings to mind Norah Jones and Patsy Cline, a classic number patinated with nostalgia.

But wait: That's not an oldie from the Golden Age of pop music. No, "Let Me Be the One" is a Robert original, one of about 75 songs she has written over the years and the title track of her 2016 album.

"Let Me Be The One" also gets treatment on the singer-songwriter-storyteller's latest recording, "Swing Set," which she will present at a CD release party starting at 7:30 p.m. Thursday at the Wort Hotel's Silver Dollar Bar.

A frequent performer at the Jackson Hole Hootenanny and part of the stable of vocalists who sing with the Jazz Foundation of Jackson Hole's big band, Robert has assembled a combo of valley stars to launch her album — Mike Calabrese on drums, Keith McCoy on lead guitar, Dave McCann on bass and Kathy McCann on fiddle — dubbed the Cowgirl Jazz Dance Band and boasting "over 230 years of professional music experience."

"This album is truly the best effort yet," Robert said of "Swing Set," her soon-to-be-released disc. "I put in everything I've ever learned."

And that's a lot of learning.

Born and raised in Arizona, Robert has sung since she was very young.

"My brother and sister and I sang three-part harmony since I was 5 or 6," she said. "We'd sing at church, at friends' houses, anywhere. There never was a time I wasn't singing."

When she was 16 she sang her way to first prize at an Arizona fair. The prize was $50, a recording session and a week's stint at the Shrunken Head Coffee House. And that, she said, was the start of her professional performance career.

"Jazz captivated me at that time," she said, "jazz and blues."

She sang at restaurants, lounges and clubs. In England, where she studied dance, she became active in the bustling coffeehouse scene. Then it was back to the states and Arizona State University, where she earned a teaching degree. She would teach a few dance classes by day and play gigs at night.

"And that worked very well for me," she said.

So well she wound up in San Francisco, fronting a 13-piece orchestra three to five nights week at the Claremont in Berkeley, the Fairmont on Nob Hill and other such tony properties.

"On Wednesday we'd do a bar mitzvah, on Sunday it would be a society party, on Thursday we'd play pop music at a party," she said. "We all did kinds of music. You had to be able to do it all."

When she was in her mid-30s, her life took a detour, she said. Her father, Cavett Robert, was a lawyer and an insurance and real estate salesman who in the early '60s turned to public speaking. He won the "Golden Gavel Award" from Toastmasters International in 1972 and in 1973 found the National Speakers Association.

"So I joined him in his business," she said, giving motivational speeches and working as a storyteller.

She still speaks to groups — "I'm going to do Rotary in September" — but she never lost her love of music. Some 15 years ago she and her husband, Rick Flory, started splitting their year between Arizona and Jackson. She became a regular at the Monday night Hoot at Dornan's in Moose.

"I was always more of a jazz person," she said, "but growing up in Arizona you can't help but learn some Merle Haggard and Loretta Lynn."

But the typical harmonies of Western pop didn't fit her jazz sensibilities, so she swung things up and threw in some hip 9ths and 13th to the chords.

"That started sounding refreshing to me," she said.

And the folks at the Hoot dug it, too.

"People would come up after and say, 'Oh, I really like your Cowgirl Jazz.' And I though, 'Oh, I like that,' and I started developing that concept."

She's applied the idea to a number of albums, including 2014's "Jewel of the West," which won Best Western Album of the Year from the Academy of Western Music and whose title track, and ode to Wyoming, was nominated for Best Song of the Year.

She worked with record producer Marvin O'Dell to really hone the song, and she liked the process so much — having two sets of ears involved instead of just one — that she enlisted him for "Swing Set." They laid down the basic tracks of vocals, bass, drums and guitar in Arizona, then took it to Nashville for final treatment.

"Oh, my gosh, you can't believe how they took it to a whole new level," she said.

Fills and flourishes were added by violinist Stuart Duncan, who has toured with Diana Krall and Chris Thile; Doug Jernigan, a Steel Guitar Hall of Famer who has gigged and recorded with Vassar Clemens, Stephane Grappelli and Bucky Pizzarelli; and guitarist-keyboardist-saxophonist Rory Hoffman.

"It was amazing," Robert said of her Nashville experience. "The first time through they know it well; the second time they start to add their own creativity; and the third time they have completed arrangements I could never have imagined."

Robert's band for The Wort consists of similarly talented professionals. After just a couple of rehearsals the gang had Robert's songbook down.

"It was perfect," she said, "very little changes, just getting a feel for each other."

The McCanns are "terrific," she said, "everyone knows them." Calabrese, who also sings on a few numbers, is "perfection — he knows how to do everything." And then there's McCoy, who "added some real nice local flavor to this jazzy Western mix."

"I've graduated to working with all of these respected musicians in town," she said. "We're a very close-knit community — everyone knows everyone else and tries to support each other. It's a wonderful thing.
Richard Anderson at jhnewsandguide.com.