Dear Everyone,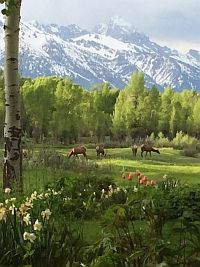 Many of you will be taking roadtrips this summer.  Even if you have a roadmap - detours are fun to take sometimes, right?.  For variety! I love variety, and I'll bet you do, too: I love variety in food, landscapes, fashion, and of course music! 
    When I was maturing, artistically, I felt some frustration over the fact that I could not seem to fit into any one genre of music. The market wanted to put me in a niche; but I loved it all: folk, jazz, blues, rock, classical, pop, western and gospel. I couldn't choose just one! Breakfast with classical and folk, lunch with blues and jazz, dinner with rock and pop music. Variety keeps things interesting!
    My music development was varied: I started out early in life singing in the church choir; then 3-part harmony with my Brother and Sister. At Friendly Pines Camp in Prescott, AZ I heard a camp counselor named "Dee Dee" sing John Henry: she belted it out with her guitar and I was changed forever - I wanted to be just like her!
     My Brother taught me three chords on the guitar and I started playing folk music at twelve starting with "John Henry," of course! I wrote my first song at fourteen (a Christmas song) and my Mother made me sing it every year at Christmas which is the only reason I remember it today! At about sixteen, blues and jazz captivated me, then rockabilly and pop, and then originals and western. Hey! A girls gotta make a living! I did what the market required to pay the bills, and it was great cause I loved it all.
     I didn't learn guitar with a teacher for many years. I grew up at a time when almost everyone played guitar to some degree!  Many folk songs could be mastered with only a few chords and it was accompanying my singing that was of real interest to me. My friends who played guitar and I exchanged new chords and licks and songs endlessly.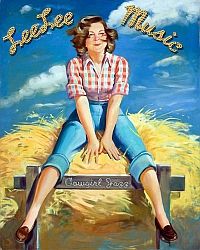 When I heard Bonnie Raitt at 16, she opened my world. Blues! Then Billie Holiday and Ella Fitzgerald and my life was never the same. Jazz! But I had to make a living, and pop music and rockabilly and 50s dance music filled out a jazz and folk repertoire that could help get me hired in a variety of venues as a solo act, duo, or quartet when the venue and budget allowed. 
     Strangely, it was one of the least creative periods of my musical career because all decisions had to be based on economics alone. I didn't really write much original music at that time - who had the time for that? I was just trying to make a living.
   Eventually, to help pay the bills and expand my skill set, I joined my Dad (Cavett Robert, Founder of The National Speakers Association) in his public speaking business as Director of sales and marketing. It was new and challenging. I was able to add public speaking to my skills and even tried my hand at writing original music to adapt to a particular theme for a meetings event. I liked the professionalism of the business community and the potential for a higher income and travel and even international opportunities. My Dad and I had the time of our lives in business together! We traveled the world and I met some amazing people including Dr. Norman Vincent Peale, Art Linkletter, Zig Ziglar, Tony Robbins.  After Dad passed away, it wasn't as much fun, and I decided to come back to performing my music again.
    I wanted my music experience to be different this time. I didn't want to make my decisions based on economics alone: I wanted to be able to steer my music career based on a strategy, but also with creative fulfillment.
     I met a man who was very involved with the western conservation community and I started learning about sustainability  and started getting outdoors more and seeing great vistas and smelling clean air. I heard about "fly ways"and how migrating birds would migrate from north to south during the winter - seemed like a good idea. Eventually, Rick Flory became my husband and we started living six months in Jackson Hole, Wyoming and then migrating south during the winter to spend six months in my native state of Arizona. I became Executive Director of Rick's Earth Friends Conservation Fund and I learned a lot about wild things and wild places. In a good way!
     I had more time, so I started writing songs to remember the places we visited like a journal - it was a musical biography. To remember the songs,  I recorded them, informally, and we gave the CD's away to our conservation partners. I started performing again, too, because I missed singing in front of an audience.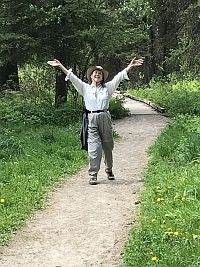 I've never let go of the roots of my music: the folk and jazz influences and even gospel have always played their part. I have developed my "Cowgirl Jazz" technique into enough of a style that it is recognizable, but broad enough to give me a lot of room to grow.  I've taken time to share with you an abbreviated version of my "music-life journey," and as you can see it has not been a straight line.  I've taken plenty of detours and ups and downs from my road map of music, but it's worked for me.
     I'd like to wrap up my message  with a "take home" for you...if you've made it this far, thank you!  Maybe you have felt pressure at times to conform to a certain style, or niche or way of doing life. Maybe you've even lost yourself along the way of life because of the buffeting of the winds of responsibility and other people's advice.
     There is only one YOU in the world.  There may be detours along the way but your road map should give you the fulfillment you deserve.  You may not be able to conform to a niche or fit in to other people's groove, but if you can wake up and say, as my Dad always used to say, "Good morning God!" instead of "Good God it's Morning!" then you are on your way.  Life does give you "do overs," and it's never too late to do life your own way. Don't be afraid of life's detours and if you are not feeling fulfilled and excited about what you're experiencing, then I encourage you to take a detour. Variety is fun anyway, and it just may be a shortcut to the rest of your life! Have a great Summer!
 Lee Robert