...Answer the call.
      My Producer on the other end of the line said, "There's a possibility that we can get three top Nashville session musicians to do the solo work on your upcoming album." I saw large dollar signs looming. "How much?" I said.  He responded, "That's just it. We'd save enough in editing and speed in getting good tracks down, that financially it would not be that much more than if we recorded with local musicians!" I didn't hear any downside. "Lets do it!"
     The session people were well-known in country, western, and bluegrass music: Stuart Duncan, fiddle; Rory Hoffman, accordion, guitar, harmonica, and piano; Doug Jernigan, pedal steel; Richard Smith, Engineer at Tunesmith Studios.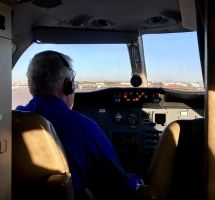 As it happens, my husband, Rick, is a really good pilot, so his part was flying my Producer, Co-Producer and me in the aircraft to Nashville. That alone was enough to create some fun!  I used to be afraid of flying, but now I love the feeling of lift-off: weightless.  It is very exhilarating, and it saves time and energy with no wait time!
     It took about three hours at 39,000 feet and we landed in a suburb of Nashville in time for a nice barbeque meal near our hotel.  We then checked in and decided to go to The Nashville Palace to have a beer and watch Rory Hoffman (one of our session musicians) and the band, "Fifty Shades of Hay" perform.  No cover charge, and the level of musicianship was gobsmacking!
     Every musician in that six-piece band could have fronted their own band with different genres: irish, bluegrass, blues, western, hillbilly. The vocalist was beautiful and personable and one of her most outstanding features besides perfect pitch was that she could sing back-up harmony with any of the rest of the band with such precision  they sounded like one voice. We left after the second set with Rory singing, "Nightlife." I took a video with my phone and I have been starting my day everyday watching his inspiring rendition because it was so good it made me squeal!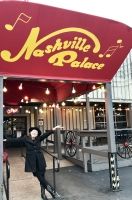 The next morning when we got to the studio, after Tom got us a little lost with his driving, I was introduced to everybody and we took our seats – I liked the small couch that had a pillow on it that said, "My Happy Place," and I got out my knitting. Then we all held onto our seats!
       These musicians blew everything I'd ever experienced at a recording studio out of the water!  Not only did they each have their own creative genius to add to the mix, but they seemed to make a most amazing game out of combining their talents together to create a fresh creation beyond what any one of them could do individually.  
     The pattern seemed to be: three takes all the way through with a couple of tweaks afterward.  The gentlemen totally "had the feel" and music of the tune the first time through; the second time through it started taking on a whole new personality; by the third time through they had together built an arrangement that was completely unique, brilliant, and turned the tune from good to great.    
     My Producer, Co-producer, Captain Rick and I just sat in our seats shaking our heads and laughing like kids on a roller coaster ride. There was a mid-morning break for brownies that Stuart Duncan's wife had made: chewy and chocolaty, with a variety of coffee  and tea options from the Keurig complete with creamers, assorted syrups, and sweetners. Then. . . onward!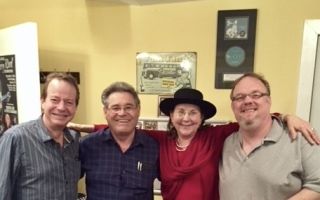 We broke for lunch mid-afternoon for pizza where I got to chat with the musicians, eat with them, thank them, and observe how personable and humble each of them were. They each had their own added skills: Doug refined the charts, Rory was a natural arranger, Stuart had stories of touring with Diana Krall that made you realize the circles he was traveling in.
     The day continued with amazing energy.  I kept thinking that the musicians would get tired and the level of creativity would drop; but amazingly, the creativity and energy only seemed to increase! How does that happen?  By 4:30pm the eleven tunes were complete and "in the can." Rory had to leave because he had a gig that evening with The Time Jumpers.
    I said some special prayers that night, "God, I am so grateful for the experience you have just given to me. I am humbled and inspired by the people you have brought into my life and the creative genius that has graced this experience.  And God, please help me remember not to let Tom drive again cause he got us lost one more time!" 
     I had a friend say, "In your pictures you looked like you were having so much fun. . .  I've heard that it can be brutal there!"  I said, "That was not my experience. After this experience, I believe that excellence does not have to be brutal. In fact, in this case, it was easy and had better results!" I believe when you reach out to life with both arms, life has the opportunity to hug you back and transform you. 
     What else did I learn? 1) I don't want to come back to earth. 2) I never want to hear, "That's good enough," from any mediocre effort. 3) Life can be like a wonderful meal that I never get full from, and I'd like a few more bites.
     My final learning (besides next time, don't let Tom drive?) . . . answer the call!
Lee Robert
"Cowgirl Jazz"