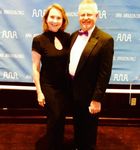 Hi Everyboby; 
     On February 16 of this year I wrote: 
"Maybe by walking this "Award" road together, hand in hand, it can (in addition to a little blood, sweat, and tears) shake a little "Stardust" on both of us. Are you in?"
       On Saturday, March 28, I WON for Best Western Album of the Year from The Academy of Western Artists! Let's share a little Stardust.
       All I remember, is sitting there at our table as the nominee's names were read and hearing, "...and the winner for Best Western Album is... LeeLee Robert!"  I went into an altered state of consciousness. My husband was holding my hand and said, "You won, honey, you won!  You've got to go and get up there!"  I got up and walked to the stage very carefully because I had a long gown on and high heels.  I don't remember pictures being taken  and was in a complete state of shock! All I remember of the acceptance speech is saying, "I'm a public speaker, and I am speechless!" Maybe it was better that I had nothing prepared. Sometimes life surprises us; miracles are still part of today's world and isn't that grand?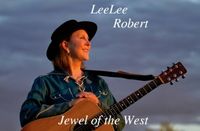 I was in a state of shock for about an hour and nothing seemed real.  I felt like I was in a dream.  I've read a little about "out of body" experiences, and that is what it felt like. I was "watching" myself walk up to the stage, make the speech, following the directions back to my table.
       Only four days later, I was performing the biggest and most important concert of my life: "LeeLee and Friends" April Fools Day Concert at the Kerr Cultural Center in Scottsdale.  I gave everything I had and more and will have pictures and video clips of it to share as I get them.
        My main goal of the concert was to connect with the audience in such a way as to make them feel hope and inspiration for their own lives: the magic of something "greater than ourselves" that happens between an audience and a performer.  The magic happened that night, and I was humbled by at all.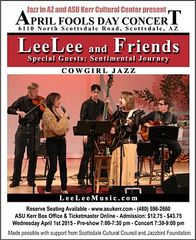 I sincerely wish for you something in your life that inspires you, gives you hope, and joy and the passion to believe in miracles and the power we all have inside us to create a life we want to live. I hope to inspire you to move forward with your dreams, and I thank you for sharing mine.
LeeLee Robert
"Cowgirl Jazz"