One more thing, Friend,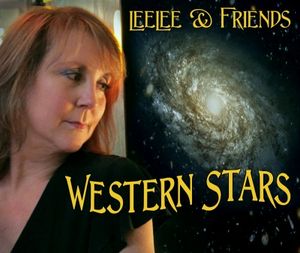 Just thought you'd like to know that "Western Stars" is ranked in the Top 30 Western Albums right now at  #18 and Most Played songs is "Adobe Hacienda" ranked  #8.  This is what DJ, Rick Huff, says about "Western Stars" in Western Way Magazine's review:
     "Lee ("LeeLee") Robert brings to the Western genre a rich, deep voice with stylings that reveal jazz and ballad sensitivities.  Providing an unusual effect for swing is a plucked rhythm guitar.  Part of me yearns for the exuberant swing strum one customarily expects from that instrument, but calling on Goethe's Points of Criticism, "what is the artist trying to say?"  Robert specifically says it's Cowgirl
Jazz.
Generally jazz guitar is not strummed.
      In twelve tracks, Robert makes believers out of us with fine versions of "My Adobe Hacienda," "Sugar Moon," "Don't Fence Me In," "Along The Navajo Trail" and more with some originals that include the lyrically enigmatic "The Heart of South Dakota," "Date Shakes," Moonglow" and "Walls With Doors."  And, she closes with a  medley of Dave Stamey's "May The Trail Rise Up To Meet You" and a kiss of Dale Evans' "Happy Trails."  It's a nice collection that can be fully previewed on cdbaby, and ITunes: $15 (or $9.99 MP3 download and $.99 for individual songs) through
www.cdebaby.com/leeleefriends
, or Itunes - Rick Huff
Hope to get to sing you one of those songs in the next couple weeks!
Lee Robert
"Cowgirl Jazz"
www.leeleemusic.com
602-540-0063